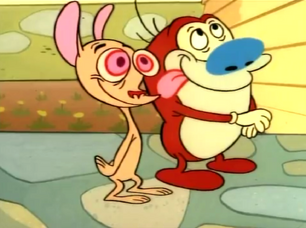 Hello people, this is my first blog post on the Ren and Stimpy wikia, today. Here are my thoughts on The Ren and Stimpy Show. As you all know, a lot of people loved Ren and Stimpy, including me. The animations were wacky, hilarious, classical, and adventurous. It was an experimental cartoon on Nickelodeon that had the ideas of shock value and gross out humor done well (unlike APC). The creator of The Simpsons, Matt Groening, even loved the show for it's outrageousness, as of that, he decided to have Billy West (who voice Stimpy and Ren in later seasons) to voice as Fry J. Phillip in Futurama in 1999 after the series ended in 1995/1996.
The two main characters are Ren and Stimpy. Ren is a mean spirited spiteful chihuahua with a nasty attitude who mainly is an angry camper, and Stimpy is the character is the dumb but happier character as he and Ren are best friends, and roommates in the series. The duo often go on some strange, but yet wacky and outrageous situations such as discovering animals that never existed in real life, inventing new things, going on missions, and many many more. I respect the man, John Kricfalusi for his creation. Yes, he has caused problems for others and Nickelodeon in the past, but I still like his show he made in 1991. I got to tell you, this one along The Loud House, SpongeBob. Harvey Beaks, Rocko, and Hey Arnold is one of Nickelodeon's biggest hits in my opinion. I liked the characters, the stories, the jokes, and pretty much the entire show because of me watching an episode to see how good it is, I got into it and I got to tell you this is the best 90's cartoon I have ever seen.
So you know, I give this one a 10/10. This is the best cartoon in 1991.
Community content is available under
CC-BY-SA
unless otherwise noted.