The Dogcatcher is a minor character who first appeared in "Big House Blues."
Description
The Dog Catcher is a tall, tan, overweight human male. He wears a white shirt and red pants, with a white hat with a red symbol. He also wears glasses and is shown to almost always wear a sadistic smile.
Personality
He is shown to heavily enjoy his job, taking great pleasure in filling his quota, although he is somewhat ferocious, as he yelled at the duo before allowing them to leave. He is shown to be heavily sadistic in his duties, taking great pleasure in picking what animal will be killed and shown to heavily smile while he leads them to their doom. However, he is shown to allow the animals under his care to have as much as they like, and party until their time comes.
Appearances
He makes his first appearance in Big House Blues where he runs over Ren and Stimpy with a truck and then scoops them up with a spatula to bring them to the pound. After asking them if they like to have fun, he allows them to go to a party with the animals. He appears later on, picking up Phil from the party and leading him to be euthanized. After Jasper, another dog, tells Ren what 'put to sleep' means, Ren realizes the truth. Later, Stimpy vomits hairballs onto Ren, which make him resemble a poodle, just as The Dogcatcher comes to take them away. However, a little girl shows up and decides to adopt Ren, who she believes is a poodle. Ren is happy to escape, but then realizes that it means that Stimpy will die, tells the Little Girl that he can only be adopted if she also takes Stimpy, to which she agrees.
The Dogcatcher makes one final appearance in the episode "It's a Dog's Life" where he shows the Granny around. She has been there multiple times, and he begins to show her some of the new animals they have, all of whom have great attributes. However, the Granny rejects them, as she wants to save the unloved animals, eventually coming upon the pound's gas chamber, where Ren and Stimpy are in the process of being gassed to death. The Granny decides to adopt them and the Dogcatcher releases the duo, saving their lives.
Appearances
The Ren & Stimpy Show Video games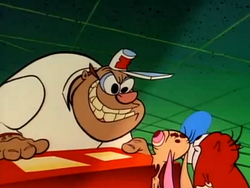 Trivia
He has a near-identical voice to the narrator of Big House Blues due to each of them sharing a voice actor in writer, Jim Smith.
Community content is available under
CC-BY-SA
unless otherwise noted.