For the APC wiki, Click here.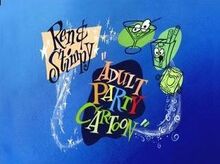 Ren and Stimpy "Adult Party Cartoon" (a.k.a. "Ren & Stimpy's All New Adult Party Cartoon") is, as its name suggests, an adult-oriented revival series aired in 2003 that aired on Spike TV, and was created by John Kricfalusi. The show was rated TV-MA, as opposed to TV-Y7 or TV-PG.
In 2002, Spike TV (then known as TNN) asked John Kricfalusi to make an adult spin off of The Ren & Stimpy Show with "adult themes". In 2003 the show premiered on Spike TV with the episodes "Onward and Upward", "Man's Best Friend" and "Big House Blues". The show also aired on MTV2.
Plot
In the show Ren and Stimpy are portrayed as a bisexual couple who go off and do random things similar to the original show. Six episodes were fully produced. Three episodes - "Onward and Upward" , "Ren Seeks Help" , and "Fire Dogs 2" originally aired on Spike TV. But the episodes "Naked Beach Frenzy", "Altruists" and "Stimpy's Pregnant" didn't air on the network but were released on the DVD "Ren & Stimpy: The Lost Episodes". However, all of them are uncensored.
Reception and Criticism
Ren and Stimpy: "Adult Party Cartoon" was critically panned. DVD Talk wrote that "the animation and character designs show that John K. and company really have a passion for animation, but the weak stories epitomize empty, heavy-handed shock value. [...] All in all, only a few of these six uneven adventures show sparks of promise, while others fall victim to the same problems that arose when Games Animation took over: the balance between sick humor and controlled chaos just wasn't treated with respect. [...] Even with a few bright spots," the website called it "a mostly dismal affair that will sharply divide fans of the series. It's nice to know that creators can occasionally give their twisted imaginations free reign, but these six misadventures offer sufficient proof that a little restraint can go a long way. PopMatters was more favorable, writing: "With snot as side dishes and vomit as gravy, the foulness is overwhelming, yet also clever. Kricfalusi's satire may be obvious, but he's not just making puke jokes for nausea's sake."
The spin-off was even hated by newer fans of the original series, and older fans of the original series despised it as well.
Episodes
For the list of the episodes, click here.
Trivia
The show was originally going to have nine episodes. However, due to similar issues with production at Nickelodeon, only six episodes ended up being produced, with Spike declining to renew the series[1]
Despite the reviews, according to Kevin Kay, then president of TNN/Spike TV, the series received high ratings and frequent airtime, the series was placed on hiatus to not "burn out the series", the series was set to return in 2004 with the new series Immigrants but both shows were pulled at the last minute.[2]
The only segment from the original show that made a return in the Adult Party Cartoon is Ask Dr. Stupid.
John Kricfalusi liked the idea at first, but later on did not according to "107 Ren & Stimpy Facts You Should Know!" by Channel Frederator, he claimed that Spike mandated more gross out humor, saying "I wasn't given license, I was kind of forced to, I just wanted to make it the way I always did. The stories even came from the first two seasons of the show, but added stuff that the executive thought would be more South Park. They're a few scenes that I would take out if I had my own way. But I never tried to be nearly crass, certainly, nowhere near is as crass as modern prime time cartoons".
The original voice of Stimpy and of Ren in Season 3-5 after Kricfalusi's departure (Billy West) turned the roles down as he thought it was a terrible idea and disliked the first script he was sent. He predicted it would be cancelled quickly (and his prediction came true much to his surprise). Stimpy was then was voiced by Eric Bauza while John Kricfalusi reprised the role of Ren.
In an interview[3] with Dorkshelf, this was said by John K in regards to APC: "This time they put it on a primetime slot and said, 'John we want adults to watch this. So put stuff in for adults.' I said, 'Well, adults are already watching the original, can't we just keep doing it like that.' They were like, 'No, you've got to do something to make it more adult.' I didn't know what to do so we put in more dirty jokes and more blatant ones. That was always kind of in the originals, but it was more of a double entendre thing. Then they didn't air it! So we did what they told us to do and then they wouldn't air it. Executives are crazy. 'Look, we already have the audience. I've done it before. Just let me do it and collect the money afterwards.' They don't want to make money, it's crazy."
All of the episodes, excluding "Altruists", were initially story ideas sent to Nickelodeon during the original show's run that were rejected (this also includes the scrapped episodes "Life Sucks", "The Wilderness Adventure", and "The Big Switch").
Adult Party Cartoon's overwhelmingly negative reception severely damaged Kricfalusi's and Ren and Stimpy's reputation, and this is why Ren and Stimpy will not get a reboot or revival from Nickelodeon, meaning that all the 1990's Nicktoons will come back without Ren and Stimpy, meaning Paramount rejected and cancelled the idea for the Ren and Stimpy theatrical cartoon for the third SpongeBob movie coming in 2021, saddening older and newer Ren and Stimpy fans. [4]
This series is actually non-canon to the Ren & Stimpy franchise, so therefore, all the episodes are considered non-canon despite a few being written back in the original show's run on the production slot and contract.
The series is noted for being significantly more vulgar and inappropriate than the original series. Its questionable existence has single-handedly marked "Ren and Stimpy" is no longer appropriate for a younger audience, and is the reason why a kid-oriented revival for "Ren and Stimpy" is unlikely to happen.
References
Community content is available under
CC-BY-SA
unless otherwise noted.