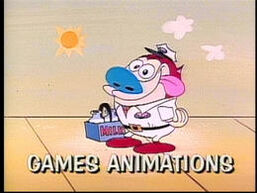 Games Animation (1991–1998; now called Nickelodeon Animation Studios) is an American animation studio.
In 1991, Nickelodeon founded Games Animation Studios as its own animation division under the guidance of Vanessa Coffey and Mary Harrington, who reported to Nickelodeon programming chief Herb Scannell. The initial duty was to continue producing The Ren & Stimpy Show as Nickelodeon dropped Spümcø and its creator John Kricfalusi from their duties on the show. At the time, Games was located in an office building in Studio City, California. Apart from The Ren and Stimpy Show, Nickelodeon's other Nicktoons were done out-of-house at Jumbo Pictures/Cartoon Pizza (whose next deal with Nickelodeon would be a live-action/puppet series Allegra's Window for Nick Jr. in New York City and Klasky-Csupo (who entered mainstream popularity as animation producers from Fox's longest-running animated sitcom The Simpsons from 1987 to 1992 when animation production duties were given to Film Roman, as well as Everett Peck's Duckman which was produced by Nickelodeon's sister company Paramount Television and aired on USA Network in 1994 through 1997).
Games Animation never had its official logo. Instead, every show the studio worked on had its own customized Games Animation logo.
A year later, Nickelodeon greenlit its first fully original in-house series, Rocko's Modern Life, produced by Games Animation with partnership of Joe Murray Studio. Games worked on the show for three years and employed over 70 people during the course of its run. The show was cancelled in 1996 by Nickelodeon due to its creator Joe Murray wanting to spend more time with his family before he left Nickelodeon to create another show for Cartoon Network called Camp Lazlo, which was released to Cartoon Network in 2005. He is currently working on his latest show for PBS Kids called Let's Go Luna!.
Community content is available under
CC-BY-SA
unless otherwise noted.