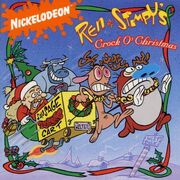 Ren & Stimpy's Crock O' Christmas
is the second studio album and only Christmas album featuring characters from the Nickelodeon animated series,
The Ren & Stimpy Show
.
The album, released September 21, 1993, is a concept album that follows the title characters as they prepare for the holidays; in their case, the holiday is "Yaksmas Eve," a reference to the second episode of the original 1991 season in which they prepare for Yak Shaving Day and a visit from the Gilded Yak via his flying "enchanted canoe." Soiled diapers are hung from mantelpieces in lieu of Christmas stockings while another tradition calls for filling of one's uncle's boots with coleslaw. It is hoped that the Gilded Yak, who lives at the "West Pole" and who appears via the drain of the bathtub, will leave shaving cream scum in the bathroom sink.
Ren & Stimpy's Crock O' Christmas was re-released on compact disc August 5, 1997 on the Kid Rhino Entertainment record label. As in the case with later episodes of the television program, Billy West provided the speaking and singing voices of both Ren and Stimpy.
Track Listings
Fleck the Walls
We Wish you a Hairy Chestwig
We're Going Shopping
Yak Shaving Day
What Is Christmas?
Cobb To The World
Happy Holiday Hop
I Hate Christmas
Decorate Yourself
Community content is available under
CC-BY-SA
unless otherwise noted.